Adding Storage to Your XBOX 360
Today we have 2 options for Hard Drives in the 360, either the 20 GB Drive that comes with the Premium or Console System or the 120 GB Drive that is packaged with the 360 Elite. If you have the 20 GB and are looking to purchase the larger Hard Drive offered by Microsoft you are going to shell out about $179.00 wherever you go. If you have limited space on your drive and are scratching your head about how to solve the problem, here's your answer!
You can add a Hard Drive to your system through one of the available USB ports on the Console. This drive will add another dimension to your 360 setup. First of all, you can store tons of music, thousands of photos and even videos from your personal collections and view them on your High Definition Television. It is pretty straight forward and anywhere from 1/3 to 1/2 the cost of buying a 120 GB Drive with the Microsoft logo on it. Better yet, you can take the drive with you anywhere you go and access those files on any PC in the World! You can't do that with your 360 Drive!
First of all, Marketplace content can ONLY be stored on your Microsoft 20 GB or 120 GB Hard Drive that plugs into the top of your console. Therefore if you have music or videos on your drive that weren't purchased from the Marketplace, you can clear them off your Microsoft Hard Drive to free up room for Marketplace Content, such as game downloads, and exclusive Live content.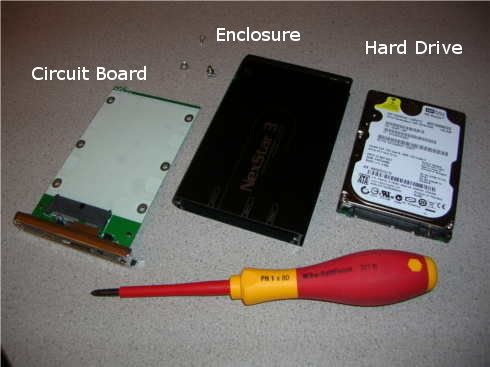 I chose to go with a 2.5" 160 GB Serial ATA Hard Drive. This is a laptop hard drive and I chose this size because the drive is small enough to run off the 5 volt power bus in any USB port, this eliminates the need for a power cord to your new Hard Drive. Thankfully, Microsoft made sure that their USB ports all have sufficient current at 5 volts so a single USB port will suffice.
You can purchase these drives at any electronics store or your local computer store. They can be purchased in a case or you can purchase the drive and the enclosure separately and put the whole thing together. I purchased the drive for a mere $50.00 because someone returned it to the store, and picked up a $20.00 case that featured USB 2.0 and eSATA ports for connecting. If you decide to do it this way make sure your HDD and your case have the same connections inside, for instance, the drive is a Serial ATA (or SATA) and the enclosure has to have the same Serial ATA (SATA) connection inside to mate up with the drive. Next, put everything together, usually a simple phillips screw driver does the trick.
You will have to format the drive with your PC if it doesn't come with software or pre-formatted. If the drive comes with software, run it and plug the drive into the PC's USB port and you should see the drive show up under the "My Computer" tab in the Windows Start Menu. Now, if you are running Windows Vista, XP or 2000 your native drive is formatted in the NTFS format, for the 360 you will need to format the new drive in FAT32 format or the 360 will not recognize the drive. Remember that FAT32 file systems are only recognized up to 32 GB, so when you partition your new hard drive, partition it into multiple 32 GB volumes. Partitioning can be done with Partition Magic or through Windows.
In Windows XP click Start, then click Run, in the box type "diskmgmt.msc" (minus the quotes) and it will bring up a list of drives, select the new hard drive and partition a new volume in FAT32, remember you can place multiple volumes on a single drive. If your new drive is 120 GB make four 30 GB volumes, once the formatting is done you are good to go, just start putting music, photos, and videos on the drive and you are ready to plug them into the XBox 360 and view them on your High Def System. For Windows Vista click Start, then in the Search Box type "diskmgmt.msc" (minus the quotes) and follow the same instructions for Windows XP.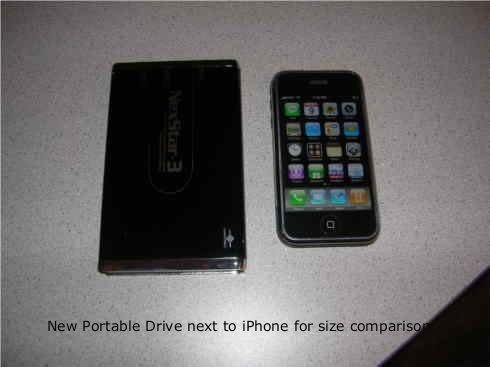 Next to the 360 Elite and on Top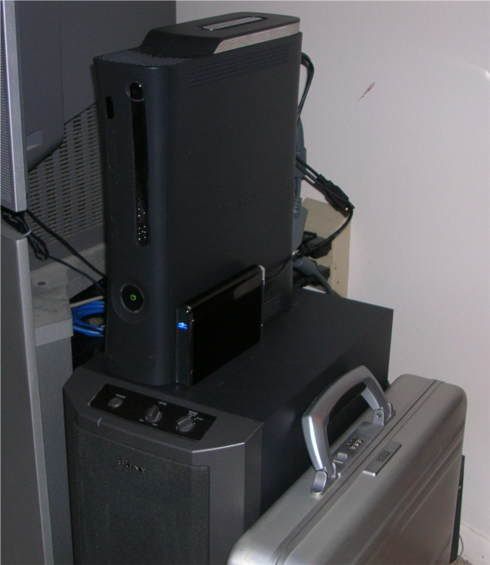 This will work for any Hard Drive of any size as long as the file system is formatted in FAT32 format, just remember most 2.5" drives can run off the USB power inside the port, while 3.5" or ancient 5.25" drives need an AC power adapter to power the drive.
This setup allows me to have 80 GB of music, 10 GB of photos and , 8 GB of video stored with over 60 GB still available on the Portable Drive and my 120 GB Microsoft 360 drive has about 45 GB of Marketplace content on it with almost 75 GB free for future content downloads. All together, this setup provides me with 160 GB of personal storage and 120 GB of Marketplace storage for a total of 280 GB available for the 360. That is over 1/4 of a TeraByte, and if you have your expensive surround sound and high def system hooked to your 360, now you can view and listen to your music, photos and personal vids in High Def Surround Sound.
Arnett Out!